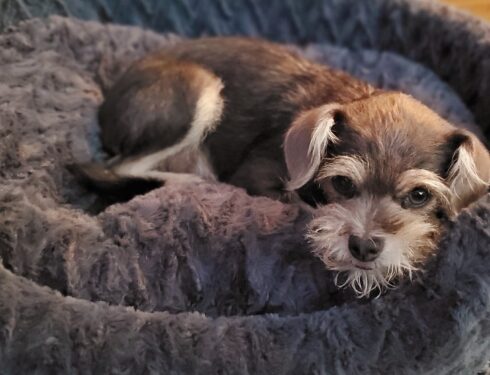 What kind of people make great fosters?
The foster experience can be challenging, but so rewarding! It's a chance to help dogs in need, but not commit to having a permanent dog.  It's perfect for those wanting to experience having a dog in their home, or for those that have a dog already that would love a playmate.  Your job as a foster is to provide a safe, loving home to our new rescues that don't yet have an adopter upon their arrival. Single people, couples, retirees and families can all make great fosters!
Foster homes must be in Greater Vancouver area and have one or more adult available for care.  The ideal home has a fenced yard and calm, quiet safe space for your rescue to spend some alone time and an adult at home most of the time.  If children are present, older children 8+  is best.
How long would the dog live with us?
This varies.  Our new arrivals may need just an overnight stay, or a few days, few weeks or a few months depending on the circumstances. We will work with you, based on your availability, to ensure a good fit in your home.
Are they house trained or do they have any "issues"?
Many rescue dogs have been neglected or abused, therefore they will need patience and understanding when brought into your environment. Potty training, learning to walk on a leash and dog socialization is often required as many have never been in a loving home. As a foster, you may need to assist in working through separation anxiety, fear or other behavioral issues. But seeing a transformation is so rewarding!
What are you responsible for as the rescue organization?
All veterinary care, food and supplies are covered by our rescue.
What am I responsible for?
Providing a loving, caring, safe environment, taking the dog to the vet, groomer or other professional when required.  Also, when required, arranging and attending meet & greets with potential adopters for their foster animal. Foster dogs must be kept on leash at all times unless in a fenced, supervised area.
We also appreciate any input our foster families can give to us about their foster dogs personality, likes and dislikes to help us find them the best match.
JFPR is not responsible for any damage caused by the animals while in foster care.  
Can we keep the dog we foster if we fall in love?
We'd love for you to be the perfect furever family for your foster!  We consider all applications received for each dog and it is not guaranteed that you will be the selected adopter for the dog you are fostering, as our goal is to find the perfect home for each of our rescues.
How much notice will I get?
We try to give our fosters as much notice as possible, but sometimes urgent needs happen.  We will always work with your schedule and would rather have you say no to a last minute request then have a foster that you can't accommodate.